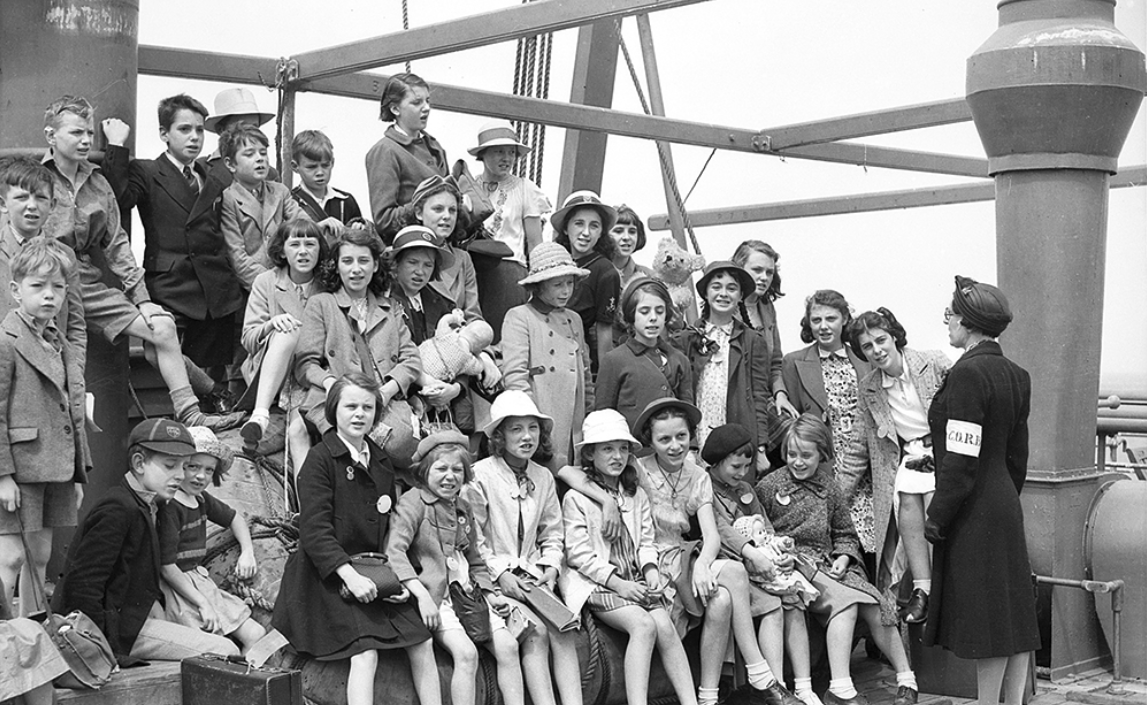 Image: Musician Meta Maclean (an escort) conducts CORB evacuees to Australia aboard MS Batory in 1940.
As a childhood fan of Bedknobs and Broomsticks and Carrie's War, I grew up with a keen interest in stories about children evacuated to the countryside during the Blitz. But I had no idea that some children were evacuated to the other side of the world.
The topic came up in an interview with a man for a Spoken Portrait. When the war started he was boarding at an English prep school as his parents were based in what was then Ceylon. When the public school that he was due to attend was bombed it was felt that the best thing would be for him to return to Ceylon. Soon after he arrived, though, Singapore fell to the Japanese. Fearing an invasion, all expat children were advised to leave the island. So, he headed to Australia where he stayed with a local family and went to boarding school until the end of the war.
His was a 'private evacuation' by a rather indirect route. I was surprised to discover that some 2,664 British children were evacuated directly to Australia, New Zealand, South Africa, Canada and the USA by the Children's Overseas Reception Board (CORB). The Board was set up in 1940 after Dunkirk when the country feared an imminent German invasion. The evacuations involved perilous journeys on converted ocean liners through war zones dodging U-Boats. One such ship SS City of Benares was torpedoed and sunk on its way to Canada. 77 of the 90 child evacuees aboard died. The tragedy led to the CORB programme being abandoned in September that year.
Each child evacuated abroad no doubt had different experiences there. I'm glad to say these were happy years for the man I interviewed. Perhaps the toughest part was the return to the UK. First, there was the question of how to get back. There were limited boats available and thousands of British troops who also needed repatriating. CORB evacuees had priority. For people like him, the options were either to wait many months for a place on a ship or to work your passage. For all children who had spent years apart from their parents, it must have been hard readjusting to family life. And I can only imagine how grim cold damp austerity Britain must have seemed. Perhaps unsurprisingly at least one-third of the children evacuated to sunny Australia eventually returned to live there.